We are delighted to announce that the new material to be explored from 2022-23 on our Material Matters research platform is paper.
Paper will be the fourth material studied on our Material Matters programme and follows wood, pigment and clay.
To mark the launch of Material Matters: Paper, we are focusing on the properties, uses and conservation of paper during our upcoming London Craft Week 2022 event. The two-day event takes place on Friday 13 May (10:00-17:00) and Saturday 14 May (10:00-18:00) and showcases fine art and historic craft skills championed at the Art School.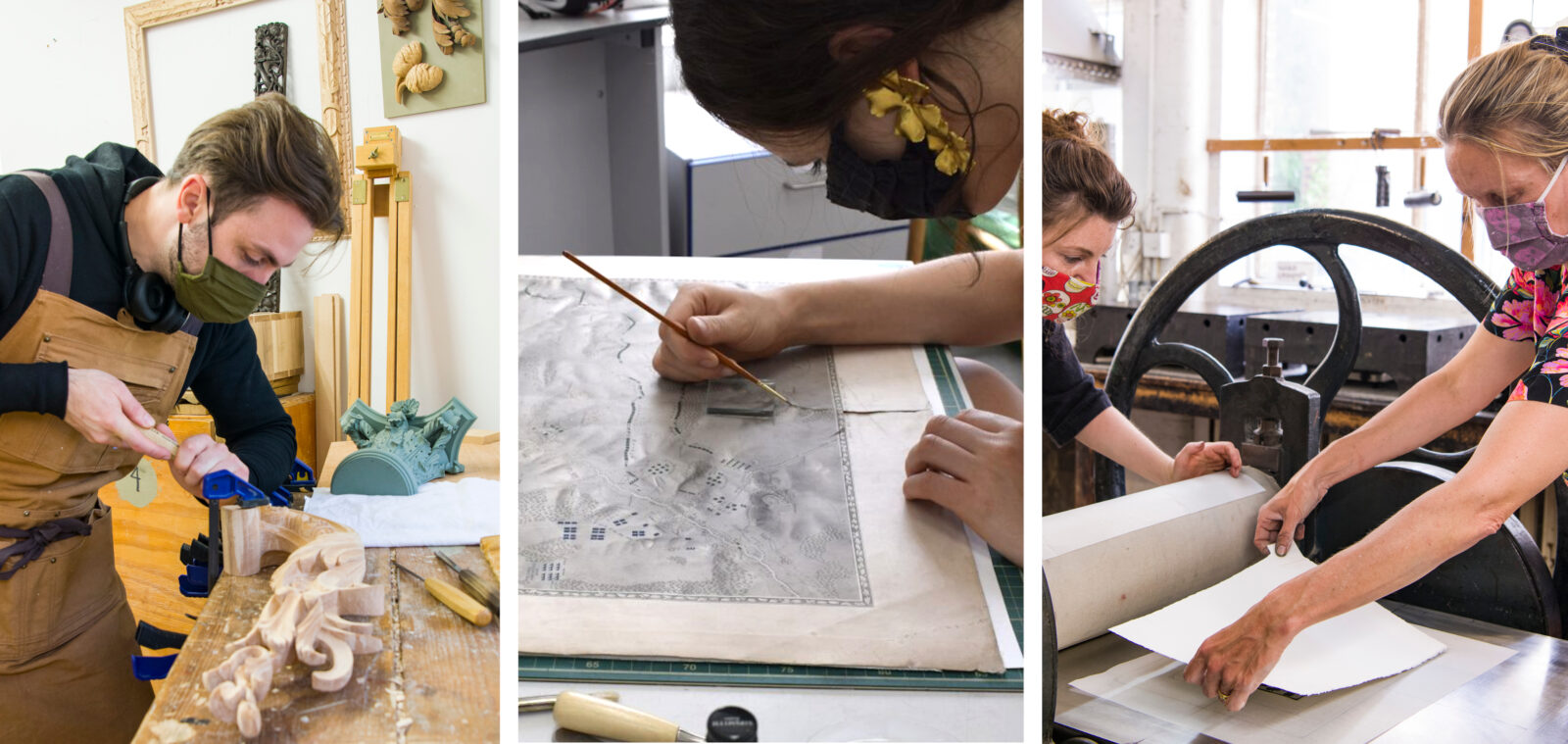 PAPER DEMONSTRATIONS
Our tutors, students and fellows will be running paper-related demonstrations and illustrating a series of specialist paper conservation and fine art techniques, taught on our renowned degree courses.
Demonstration programme
PRINTMAKING WORKSHOPS
Printmaker and artist, Kristina Chan, is leading a series of one-hour, 'blind printing' workshops for adults on Saturday 14 May. Blind printing is the historic intaglio printing process without the ink, so participants will leave the workshop with beautiful debossed artwork but no inky fingers!
The one-hour workshops are £5 (+ booking fee) per person. The workshops are now fully booked but if you would like to be informed if a place becomes available, please register on our waiting list.
WOOD AND STONE CARVING
Our wood and stone carving studios will be open throughout the two days, and you can cast your vote in our ever-popular carving competition with our student carvers, which this year has the theme of Fables in the style of Grinling Gibbons in honour of the master carver's Tercentenary. As well as watching the historic craft skills of wood and stone carving in action, visitors can have a go at stone carving on the Saturday.
TALK AND TASTING
On Saturday 14 May (afternoon only), Fabal Lager are hosting a free Talk and Tasting in our Courtyard and other refreshments will be available in our café throughout the event.
Everyone is welcome to attend the two-day event, which is free admission with no need to book.
To keep up-to-date with activities on our Material Matters: Paper programme, visit this website again and follow us on Instagram @materialmatters_cglas