MA Fine Art alumni and Co-Chairs of Students Jyoti Bharwani and Ema Epps, and BA Fine Art student Jada Quaye discuss their post-pandemic collaboration: their "Earthly Oms" series.
www.instagram.com/paintspaces_studio
www.instagram.com/emamanoepps
www.instagram.com/j.a.d.a_art
The group came together after being part of the Art School's Equality & Diversity student group alongside their friend and peer Shelana Hodge, and supporting one another through grief after Shelana passed away. Their creative affinities had always been clear to the three artists, with their practices becoming increasingly focused on materiality and sustainability; but it was the additional strains caused by the pandemic that led to their first active collaboration, albeit by chance.
JQ: I was feeling quite down, so I popped up to Ema's studio and she said "just come and work with me and Jyoti." She mentioned earth, and I had never worked with clay before. It was spontaneous, I was just following her lead. It was interesting because I needed some advice, but the advice turned into making. It was incredibly healing, and after that I just felt so much better.

JB: In our role [as Chair of Students] we are supporting each other as well as the students, and we had come to a point where we really did need to look after each other as well.

EE: The pandemic hit really hard; I think it would be silly not to mention the gravity that it's had on all our lives and our wellbeing.
In the preceding years, walking in south London's pockets of wild spaces had become a ritual for the three artists, as a crucial aspect of their practice and often the first step of finding objects and materials to work with:
EE: Just before the pandemic at our last physical meeting before lockdown, I was talking to Jada about going to Wimbledon Common, noticing after some heavy rain this ochre clay running like a river, suddenly uncovered under the soil. I picked some up and decided to mould it. The way we work with materials is to observe and correspond to what they are doing, so I used it exactly how I found it. I fired some in a fire pit at home. That was my first enquiry into using clay.

JQ: Later on we went for a walk in the Leg O Mutton nature reserve in Barnes and stumbled across some pieces of bark, which I'm actually using in my work [for the degree show] at the moment.

EE: Then during lockdown we weren't able to see each other, so having things from these locations and working simultaneously with each other has been really interesting. We kept coming back to the material side of things, grounding kept coming back as a notion.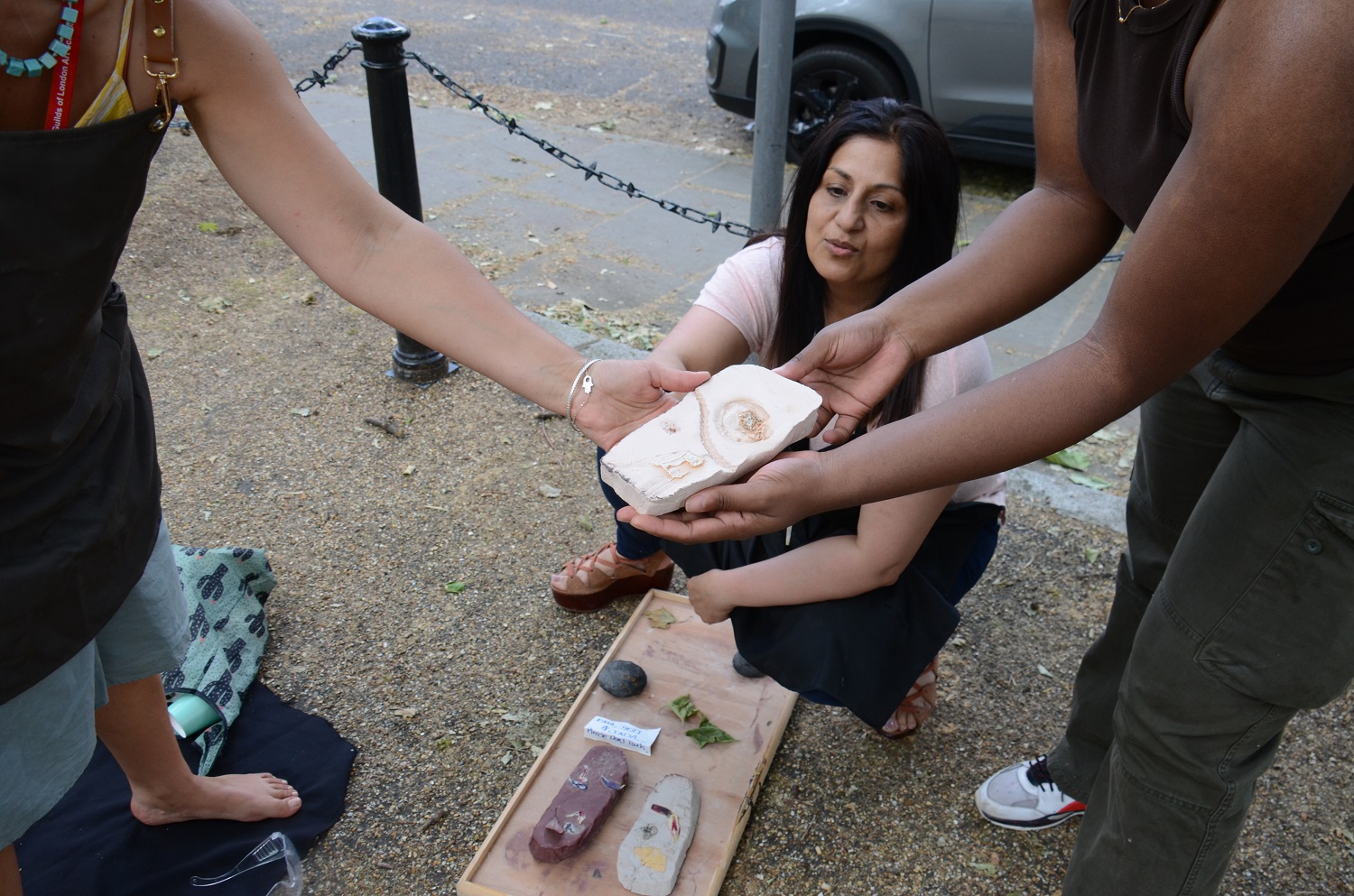 Regular meditative journeys where they would walk alone but speak over the phone helped to keep them connected through the lockdowns. Then on returning to the Art School studios, the objects and experiences from these walks came back into the fore as they embarked on some collaborative experiments with clay.
JB: I had ordered some iron oxide-rich black clay from Ireland to work with, and Ema happened to be looking into clay at the same time.

EE: We took it out of the bag, and admired the material, the imprint of the bag on the clay, and decided to simply cut from it in cross sections rather than mould it. We had this collection of materials that we'd foraged on our different walks, and other things that we'd been given.

JQ: I had collected rope, plastic bags, and various textile offcuts.

EE: It was a balance of natural and manmade materials, some found and some made.

JB: We use what comes to us, not seeking out something to manipulate.
They describe their "unapologetically feminine" approach to using clay – a classic sculptural material – in new ways, without any intention, so that it seemed to receive their embodied experiences and tensions. Found objects from their different practices (sand, human hair, foliage, cotton fibres from recycled textiles) were imprinted and left in the clay's surface, while the clay itself was allowed to remain in slumped forms straight from the bag. Some slabs were left to dry naturally, and others fired with the organic matter, but any synthetic materials removed.
EE: My favourite moment is the imprint of hair – there were a lot of home haircuts during the pandemic – next to a sycamore seed.

JQ: We were using materials which are in our realm but often neglected, using them and appreciating them for what they are, arranging them in a natural space and seeing the end result seemed like a process of therapeutic healing. The clay itself was cool to the touch, and that sensation in itself was very settling.

JB: Dominance is a big factor in all of our work. We don't want to have a dominant practice, it's more meditative than that. Learning from the material – the materials teach us.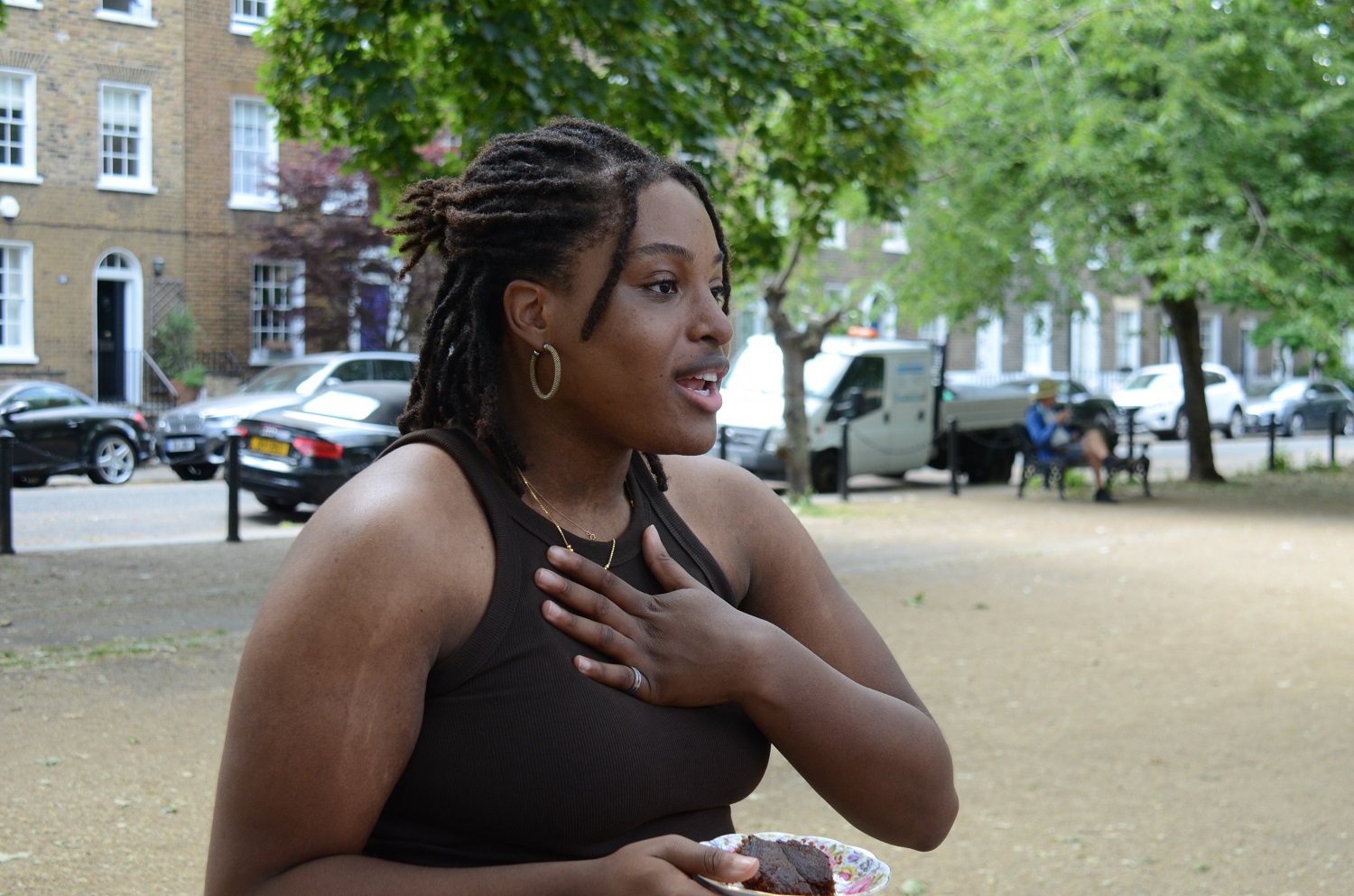 Artists' statement
In exchanging their intimate experiences Ema, Jyoti and Jada embed the personal and climate concerns in earth. The three artists merge their practices to allow their commonalities and differences to meditatively merge beyond their single identity. The foraged, recycled and repurposed materials leave physical traces of shared hopes. Through shared walks, calls and distancing they connect to sustain each other.
The gathered materials brought by each artist signify commitment of responsibility, reimagine a vision of a sustainable future through collective action. Sustaining each other's wellbeing allows the individual threads to weave together. The foraged, recycled and cast-off materials represent the immediate environment of each artist at the height of human vulnerability. The collective bonding deepens both their relationship with nature and eachother. The labour of embedding each material in clay allows grounding, nature soothes and nurtures – acting as therapy – echoing hopefulness. The diversity of each artist unapologetically intertwines into a single source of effeminate energy with intention to heal.